Are you ready for the next step in your soul's evolution? Wondering what you can do to create a greater change in your life and the lives of others? Discover the power of SOUL RISING.
William Henry's SOUL RISING is an extraordinary seminar designed just for you. He'll be doing variations of this presentation throughout 2012 & 2013.
SOUL RISING takes you on a journey using hundreds of high quality slides of encoded ancient and sacred art that enable you to see, feel and experience the secrets of enlightenment with more power and clarity. The power of these images will energize and inspire you. The result is a phenomenal experience that speaks to and activates knowledge and energy deep within you – your light body. William's personable and reasonable approach will leave you feeling like you've found a long lost friend and discovered a long lost light within yourself.
The group mind of SOUL RISING events helps to enlighten each other by using the power of our collective imagination to focus and reflect our highest selves. You'll be amazed at the levels of spiritual advancement you'll experience.
"Every time you give your lecture, your Rainbow Body becomes brighter and more colorful. You probably already know that but it's good to get validation when one goes into uncharted waters. You are soooo on course. Keep trusting yourself as you sail out into the next uncharted territory. You are a way shower."
Join us at a SOUL RISING event and dedicate yourself to wholeness, holiness and the completion of your Soul's Mission.
WANT TO HOST A LECTURE OR WORKSHOP?
William Henry is always looking for workshop and lecture venues large and small throughout the world. If you'd like to host one, or know someone who hosts events or symposiums, please email William at whenrytn@earthlink.net.


THEURGY:
Consciousness, Self Transformation and the Journey of Illumination
October 17-18, 2015
NASHVILLE, TN
Picture yourself in the peaceful setting of Nashville's historic Scarritt-Bennett Center for an intimate and deeply inspiring gathering of like-minded souls who have come together to explore and share the divine work ('theurgy') of human transformation and journeying into light and the afterlife with a team of the world's experts.
William and Clare Henry are pleased to host Dr. Eben Alexander MD, world-renowned neurosurgeon and New York Times best-selling author of Proof of Heaven and Map of Heaven, along with Karen Newell, co-founder of Sacred Acoustics, and healing oil experts, Carol and Chad Schmidt, as they create a path to soul transformation based on ancient mystical practices and the latest findings in science and spirituality. Life just got better.
Dr. Alexander's experience in the afterlife realms is an inspiring gift to all, banishing the fear of death and inspiring all to new levels of conscious living. You don't have to die, or almost die, to access universal consciousness - the answers lie within us all. Together, he and Karen Newell teach how sound can be used to escape the shackles of the physical brain, allowing exploration of infinite wisdom and alignment with your higher vibration.
William Henry's explorations beyond the veil and unlocking of the mystic ascension teachings of the sages and artists who interacted with heavenly beings makes this an unmatched combination of exceptional experience and expertise.
Add the powerful pearls of wisdom about sacred oils provided by NDE experiencer, author and Gaiam TV presenter, Clare Henry, along with Carol and Chad Schmidt, "the Sacred Oil Alchemists", and the result is a life-changing weekend. The best part is that it's only the beginning of the incredible journey you will take once you return home! Find out more and secure your place...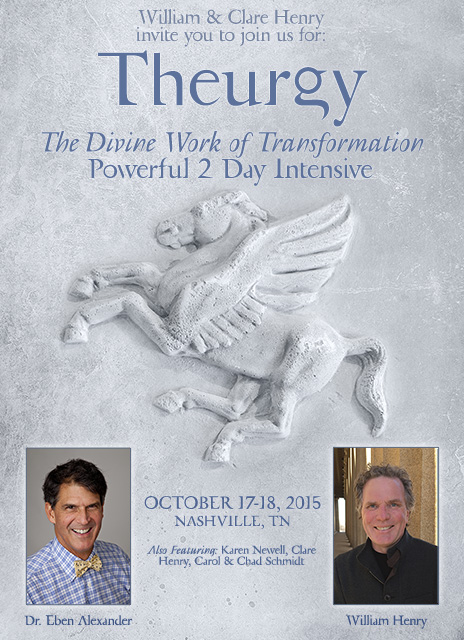 STARGATE EGYPT 2015
Ancient Mysteries, The Key of Life and the Lost Secrets of Ascension
October 27 - November 9, 2015
EGYPT
Join Clare & William Henry for an opportunity to experience the wonder of ancient Egypt and to journey within yourself on this exclusive luxury retreat. Stargate Egypt: Tuning the Light Body is designed for you to answer the call of ancient Egypt and to share the experience with like-minded individuals.

We are here to guide you to the most extraordinary experience possible and to open the way for you to connect with the temples of this sacred land.
Our aim is to provide luxury accommodations and a tour schedule that enables you to experience Egypt with ease and grace.
Our choice of hotels and Nile boat offers our guests a cocoon of luxury, safety, comfort and style.

Each day will include explorations of the temples, special meditations, discussions and activities to help deepen your connection to this extraordinary ancient land and tap into powerful aspects of your self. We'll do our best to help make this feels like an individual retreat. Everything is designed with your mind-body health, emotional wellbeing and spiritual connection in mind.
Find out more and reserve your place...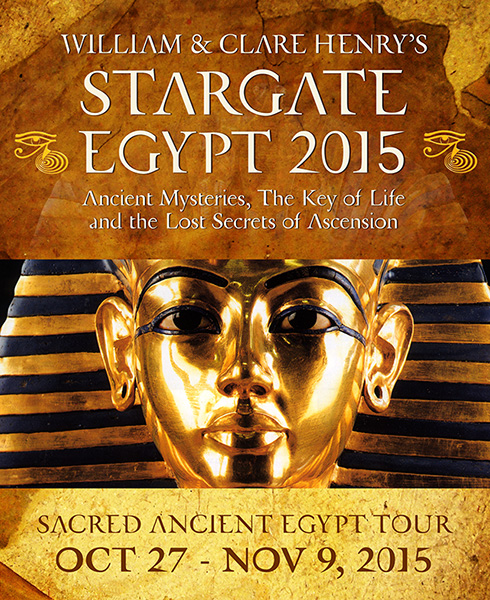 RETURN TO THE CRYSTAL VORTEX:
An Incredible Life Changing Event
November 20-23, 2015
HOT SPRINGS NATIONAL PARK, AR
Featuring: Graham Hancock, William Henry, Dr Semir Osmanagich, John Van Auken, James Tyberonn , Hugh Newman, JoAnn Parks & Max, Michele Nocerino & Sha Na Ra.
Join this formidable list of speakers in the Incredible Crystalline Energy, in the Largest Singular Quartz Crystal Strata Deposit on the Planet. You will be among true soul-family, and you will feel an immediate acceptance. You will sense an excitement and nurturing. We feel our events should be one of the most enjoyable experiences of your year, but also one of the most spiritually endearing & challenging. You will meet & recognize immediately 'Law of One' family that perhaps you have not seen for lifetimes, and yet feel instantly a sense of deep kindridship and knowing….and you will 'get something' that makes your life better.
Our Speakers, our Healers are loving … and intermingle. Our Earth-Keeper Gathering are designed to be a nurturing, open heart experience. There is no aloof sense of separation, no 'spiritual ego. Our family are 'Citizens of the Earth' , and are grounded , humble and sincere seekers. Everyone mixes together, and there is a family oriented approachability and warmth. Find out more and secure your place...