Are you ready for the next step in your soul's evolution? Wondering what you can do to create a greater change in your life and the lives of others? Discover the power of SOUL RISING.
William Henry's SOUL RISING is an extraordinary seminar designed just for you. He'll be doing variations of this presentation throughout 2012 & 2013.
SOUL RISING takes you on a journey using hundreds of high quality slides of encoded ancient and sacred art that enable you to see, feel and experience the secrets of enlightenment with more power and clarity. The power of these images will energize and inspire you. The result is a phenomenal experience that speaks to and activates knowledge and energy deep within you – your light body. William's personable and reasonable approach will leave you feeling like you've found a long lost friend and discovered a long lost light within yourself.
The group mind of SOUL RISING events helps to enlighten each other by using the power of our collective imagination to focus and reflect our highest selves. You'll be amazed at the levels of spiritual advancement you'll experience.
"Every time you give your lecture, your Rainbow Body becomes brighter and more colorful. You probably already know that but it's good to get validation when one goes into uncharted waters. You are soooo on course. Keep trusting yourself as you sail out into the next uncharted territory. You are a way shower."
Join us at a SOUL RISING event and dedicate yourself to wholeness, holiness and the completion of your Soul's Mission.
WANT TO HOST A LECTURE OR WORKSHOP?
William Henry is always looking for workshop and lecture venues large and small throughout the world. If you'd like to host one, or know someone who hosts events or symposiums, please email William at whenrytn@earthlink.net.


STARGATE EGYPT 2014:
The Temples. The Nile. The Glow.
October 1 - 14, 2014
EGYPT
Looking to tone up your soul? Answer life's big questions? Clare & William Henry invite you to experience the wonder of ancient Egypt and to journey within yourself on this exclusive luxury retreat and soul escape to the sacred temples of ancient Egypt.
This special journey is designed for you to answer the call of ancient Egypt, the call of your higher self, and to share the experience with a small number of like-minded individuals. Find out more...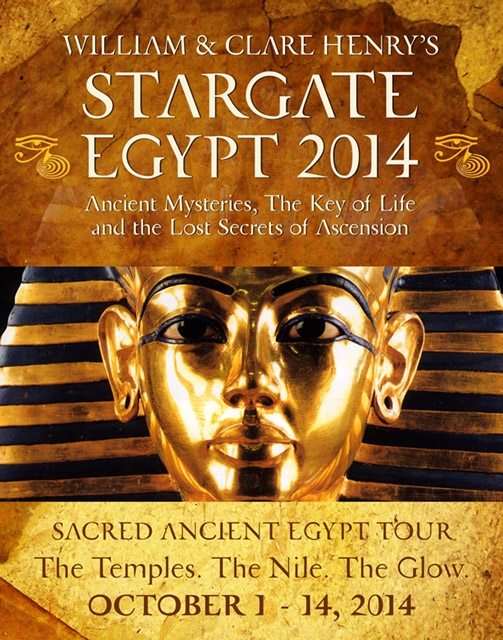 CONSCIOUSNESS & HUMAN EVOLUTION CONFERENCE
October 18 - 19, 2014
MUNICH, GERMANY
William will be in Munich, October 18-19 joining a host of speakers at the 2014 Consciousness & Human Evolution Conference.
The event is being held at the Technical University Munich, Arcisstraße 21, 80333 München, Germany
Tickets onsale now from 99 € from www.tcche.de