Are you ready for the next step in your soul's evolution? Wondering what you can do to create a greater change in your life and the lives of others? Discover the power of SOUL RISING.
William Henry's SOUL RISING is an extraordinary seminar designed just for you. He'll be doing variations of this presentation throughout 2012 & 2013.
SOUL RISING takes you on a journey using hundreds of high quality slides of encoded ancient and sacred art that enable you to see, feel and experience the secrets of enlightenment with more power and clarity. The power of these images will energize and inspire you. The result is a phenomenal experience that speaks to and activates knowledge and energy deep within you – your light body. William's personable and reasonable approach will leave you feeling like you've found a long lost friend and discovered a long lost light within yourself.
The group mind of SOUL RISING events helps to enlighten each other by using the power of our collective imagination to focus and reflect our highest selves. You'll be amazed at the levels of spiritual advancement you'll experience.
"Every time you give your lecture, your Rainbow Body becomes brighter and more colorful. You probably already know that but it's good to get validation when one goes into uncharted waters. You are soooo on course. Keep trusting yourself as you sail out into the next uncharted territory. You are a way shower."
Join us at a SOUL RISING event and dedicate yourself to wholeness, holiness and the completion of your Soul's Mission.
WANT TO HOST A LECTURE OR WORKSHOP?
William Henry is always looking for workshop and lecture venues large and small throughout the world. If you'd like to host one, or know someone who hosts events or symposiums, please email William at whenrytn@earthlink.net.


IMMORTAL ITALY
with a Special Visit to Experience the Shroud of Turin
April 24 - May 5, 2015
ITALY
Rome. Assisi. Florence. Turin. Clare and I invite you share in a celebration of the light body mysteries and mystic Christianity during our tour of immortal Italy. Combining luxury hotels, ancient wisdom and high spirituality, our ascension-centered journeys are experiences that will connect you to your highest self and help you complete your soul's mission.
• Discover the secrets of enlightenment in the immortal art of Renaissance Florence.
• Connect with the Divine in mysterious and beautiful Assisi and learn all about St Francis and Saint Clare.
• Experience the Shroud of Turin.
Find out more and reserve your place...


THE GRAPES OF THE PROMISED LAND
A Sacred Journey to Southern France Exploring the Mysteries of Wine & Oil, the Elixirs of Life, and Cathar Castles in the Sky
June 4 - 15, 2015
FRANCE
Are you ready for 11 days in one of the world's most beautiful places exploring one of the world's greatest mysteries?
Come to sacred Southern France with Clare and I for "GRAPES OF THE PROMISED LAND: A Sacred Journey to Southern France Exploring the Mysteries of Wine & Oil, the Elixirs of Life and Cathar Castles in the Sky".
Journey with us to Mysterious, Sacred Southern France - Land of the Cathars, Mary Magdalene, the Knights Templar, Rennes-le-Chateau and much more. Visit ancient sites, chateaus, medieval castles, mountains, the Mediterranean Sea, the Pyrenees, spas & spring water, Romanesque churches, Abbeys, Black Madonnas, and sites of great mystery. Uncover and explore ancient codes in sacred art and architecture!
When you travel the Path of Souls with Clare and I we put more than just our name on a tour. We are the tour planners, administrators and hosts. This means you will be treated like family and enjoy the benefit of knowing that this is more than just another tour for us. It is who we are.

Find out more and reserve your place...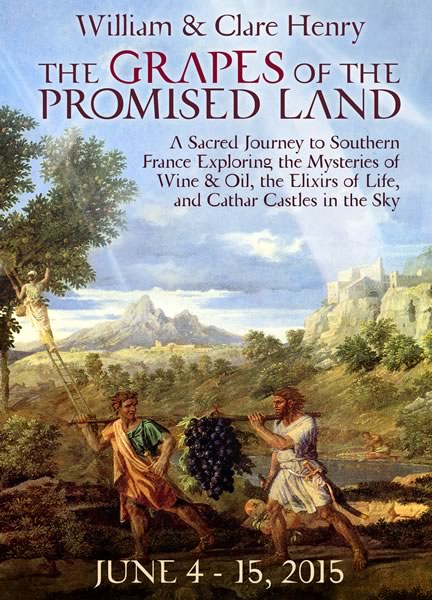 STARGATE EGYPT 2015
Ancient Mysteries, The Key of Life and the Lost Secrets of Ascension
October 27 - November 9, 2015
EGYPT
Join Clare & William Henry for an opportunity to experience the wonder of ancient Egypt and to journey within yourself on this exclusive luxury retreat. Stargate Egypt: Tuning the Light Body is designed for you to answer the call of ancient Egypt and to share the experience with like-minded individuals.

We are here to guide you to the most extraordinary experience possible and to open the way for you to connect with the temples of this sacred land.
Our aim is to provide luxury accommodations and a tour schedule that enables you to experience Egypt with ease and grace.
Our choice of hotels and Nile boat offers our guests a cocoon of luxury, safety, comfort and style.

Each day will include explorations of the temples, special meditations, discussions and activities to help deepen your connection to this extraordinary ancient land and tap into powerful aspects of your self. We'll do our best to help make this feels like an individual retreat. Everything is designed with your mind-body health, emotional wellbeing and spiritual connection in mind.
Find out more and reserve your place...